Violent squalls, rough sea, ... the launch of these 48h of Défi Azimut - Lorient Agglomération has been harsh for the sailors and the hardware. The Fives Group – Lantana Environnement duo prefered to be careful yesterday when starting the race, to safeguard the hardware. However, once in the race, Louis and Rémi took strategic options tacking against the wind and the waves to go up the rankings.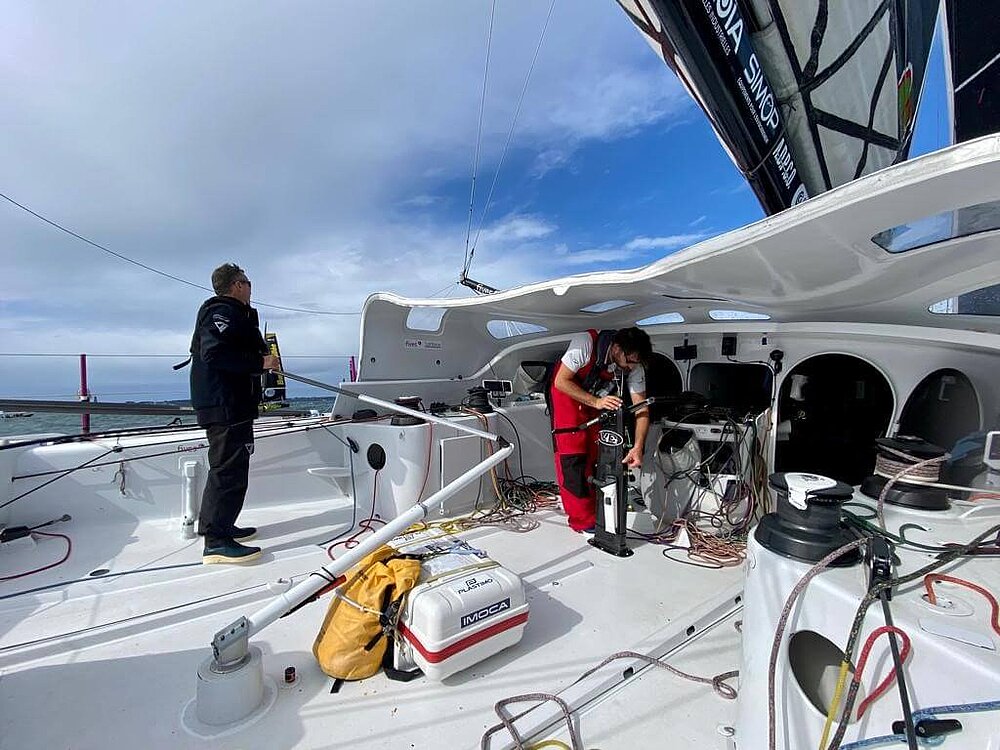 At 8AM this Friday, they sail at more than 15 knots towards the 2nd marker. They should reach it in the middle of the morning. Louis and Rému are placed 5th among the drift boats and 24th in general rankings.

Once this virtual marker wrapped up, the Fives Group – Lantana Environnement duo will open sails and accelerate with carrying winds. Louis and Rémi - the skipper and the sails master - will also benefit from one of their spinnakers' latest modifications... A double goal has been set on this upcoming Transat Jacques Vabre Normandie le Havre's warm up: racing and training.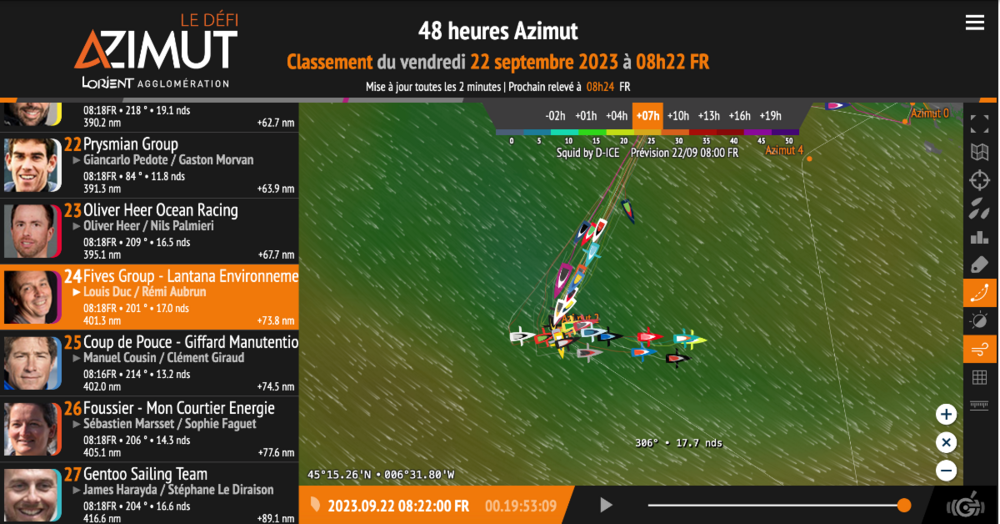 This Saturday is long and arduous for sailors in duo still racing offshore. The first foilers crossed the finish line this morning around 6AM at Lorient La Base and took what was left of wind with them.

The Fives Group – Lantana Environnement duo are still battling it out with other drift boats. They fight for that category's Top 3 or Top 5. They are 7 to 8 miles away from the 3rd drift boat and 3 miles away from the 4th. A cat's-paw, a quick tuning, ... every details count today.

All day long, they will be actively waiting to exploit the smallest of breeze and reach the finish line normally during the evening with a welcome SSW wind.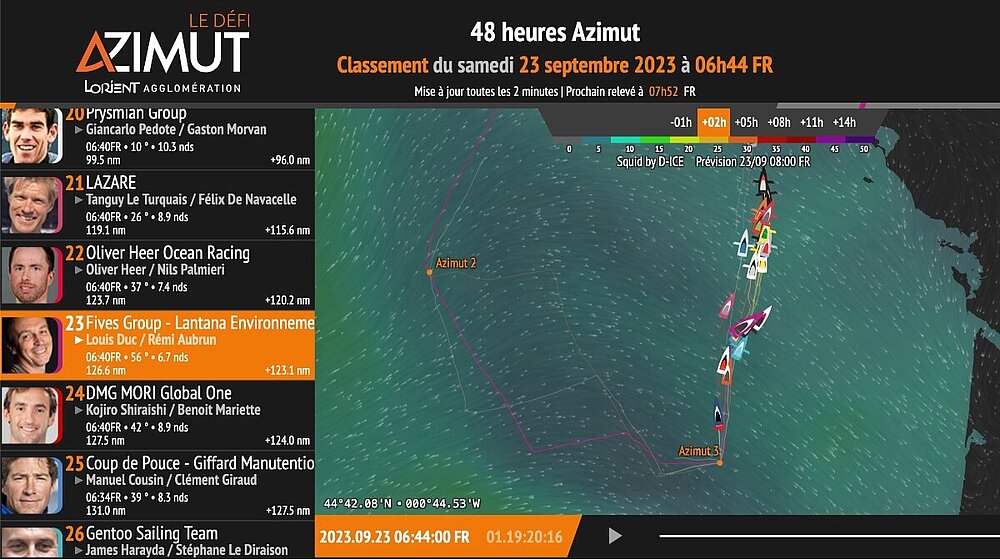 We still lack some training
The Fives Group – Lantana Environnement do reached Lorient in the middle of the night, smiling as always. At the end of these 48h of Défi Azimut – Lorient Agglomération, they found the race very interesting, but also frustrating: "We were too careful in our sails choices... It played out with minimal adjustments, but that resulted in big gaps at the finish line", analyzes Rémi Aubrun. "We still lack training", completes Louis Duc, "lack of time, but saying that after achieving all we did seems a pretty good sign!"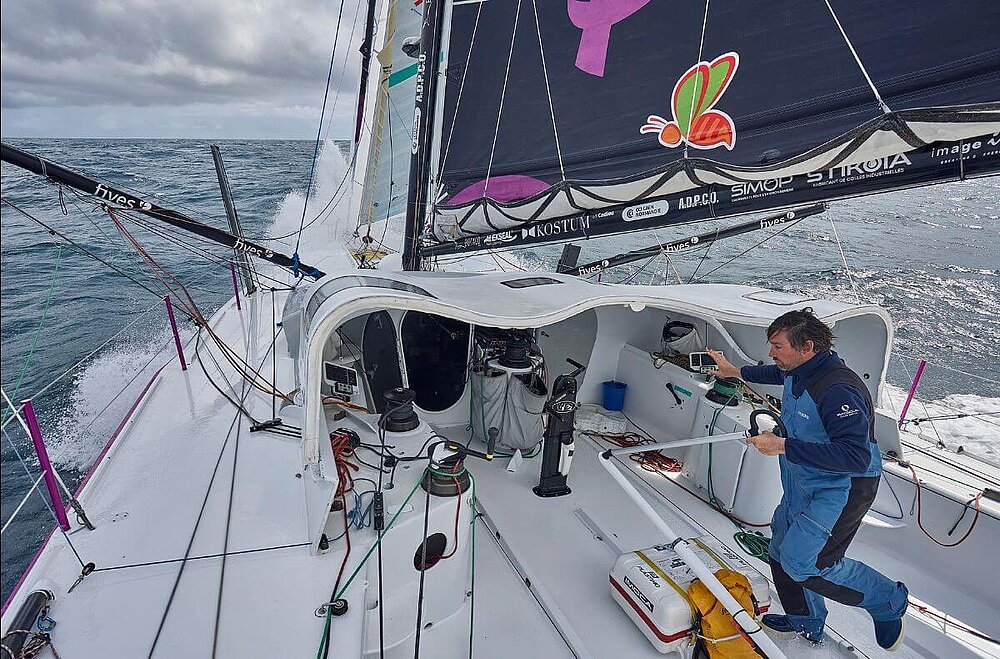 Louis Duc and Rémi Aubrun crossed the finish line for this 600 miles race at the heart of the Bay of Biscay at 01:06AM this Sunday 24th of September, ranked 23rd, 5th for drift boats. The last day, with barely any wind, resulted in big gaps between the different IMOCAs. These 48h allowed the Fives Group – Lantana Environnement duo to compose with a wide range of weather conditions: "There was a bit of everthing during the race. We progressed, but we were too careful with bad sails choices. We won't make that mistake again!", sums up Rémi Aubrun, co-skipper on the Fives Group – Lantana Environnement Imoca.

Too careful
Louis Duc: "Our recently modified sails can get us farther that I thought with the winds. We didn't put too many sails, just in case. It's a good lesson for what's coming up next. We need to find time to train, which wasn't doable up until now."

No weather, no pictures
Louis and Rémi were also penalized by a black-out on their satellite antennae. Impossible for them to load weather files... and impossible for Marie, their mediawoman, to send pictures back to the coast.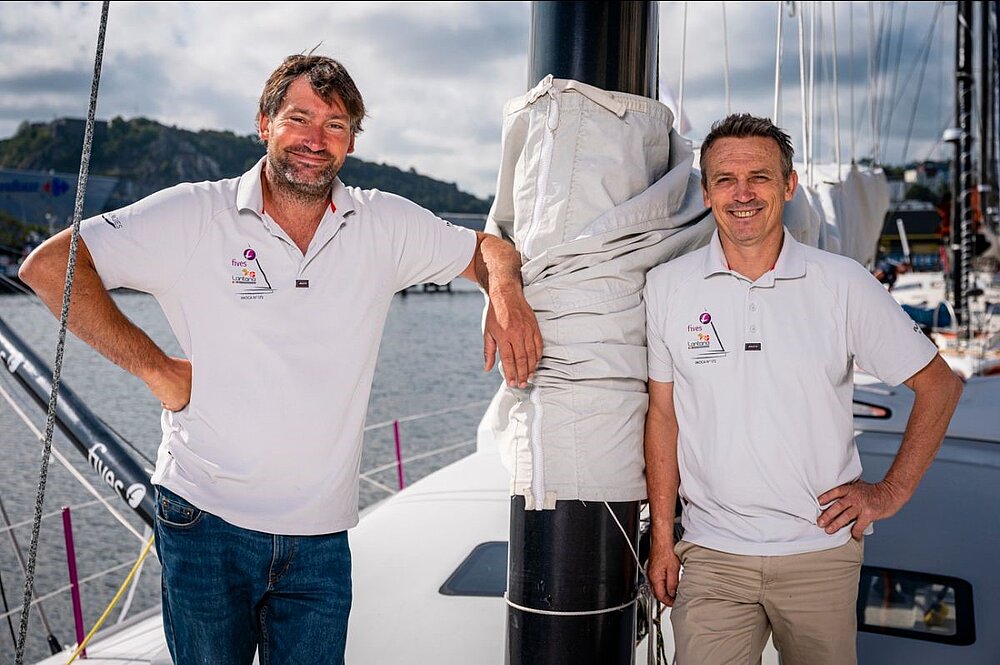 All that is left is positive: "We fought pretty good with surrounding boats. Next time, we will try to fight with those in front of us.
We didn't break anything, we tested the sails and cumulated more miles towards the Vendée Globe.
It was a pleasurable experience to sail with Rémi. Everything is easy and relaxed with him, that's dope. I like to sail like this", details the Fives Group – Lantana Environnement skipper.
"It's a nice race, the route was fun. The duo works well: no need to talk much, I like it", confirms Rémi.
Fives Group – Lantana Environnement Team's Program
Sept. 6th Launch in Caen
sept. 11th Conveying to Lorient
sept. 15th 11.30AM (Paris Time) Inauguration of a Lantana Environnement beehive at Fives Syleps, Ploemeur, France
Sept. 19th – 24th Défi Azimut - Lorient Agglomération
End of Sept. Conveying to Cherbourg
Start of Oct. Undertaking finishing touches, Caen
Oct. 19th Arriving at Le Havre
Oct. 29th Start of the Transat Jacques Vabre Normandie Le Havre
Nov. 26th Start of Retour à la Base
A respectuous and circular sporting event
The Fives IMOCA is an "upcycled" boat. Thanks to Louis, it lives a 2nd life!
Louis and his team gave a new life to a very damaged IMOCA because of a fire. This refurbishment undertaking was a real technical challenge... that succeeded in only 10 months!
Louis and his team continue to apply this upcycling principle and optimization research with a constant effort on sobriety throughout this Vendée Globe program.
Louis is also very keen on respecting everyone's work and giving a chance.
The Fives Group, a major partner in this Vendée Globe program, has been seduced by such commitment and values, as it shares the same values and responsibilities.
Fives, your partner for a more virtuous industry
For over 200 years, the Group has designed the breakthrough solutions and technologies that make industry what it is. From the first railways to the Eiffel Tower, through the spatial conquest, Fives always spearheaded the industry of the future. Pioneering decarbonization, the Group is an unconditional partner of the industry's energy transition. Through digitization, the promotion of a circular economy and the development of new processes and new energy sources, Fives puts its technological leadership to its customers' service.
www.fivesgroup.com