Tomorrow at 9:30AM, the 40 immobilized IMOCA in the Bassin Paul Vatine will launch onto their Route du Café. The 9 stand-by days are behind them... their spirits now fully focused on the race ahead.

This morning, less than 24h before this Transat Jacques Vabre Normandie Le Havre, Louis Duc and Rémi Aubrun reunited with their boat and team.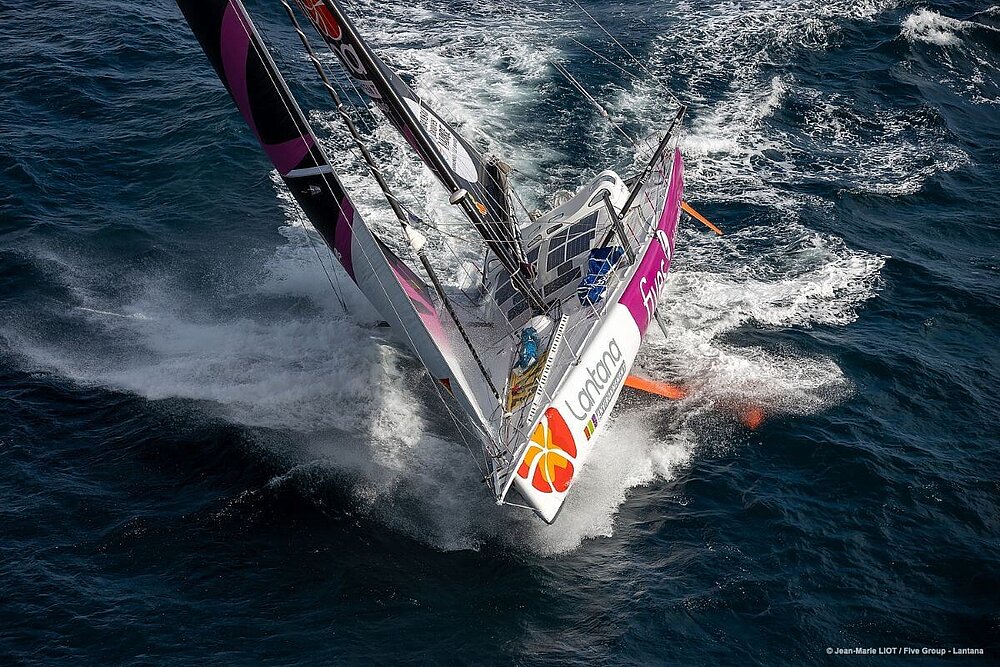 "It's going to be wet!"
The race briefing this Monday morning allowed the 80 racers to get back into a before-the-race feeling: rain, rough sea and quite strong WSW winds (25 knots with 30-35 knots gusts) are expected tomorrow in the English Channel. "It's going to be wet!", smiles the Fives IMOCA skipper.

A small depression will need to be summoned in the Bay of Biscay before going South and take on a windless bubble off the Spanish shores, the last reef before reaching the trade winds, those famous carrying winds blowing up to the West Indies…

No doldrums but a play nevertheless
Anyway, there will be tactical and technical choices in the first hours of this Transatlantique.
In order to stay as close as possible to the initial timing, the race track has been reduced by roughly a week. The IMOCA won't play with the doldrums. They will have however to leave the Island of Santa Maria in the Azores to starboard.

On the deck at 4AM
At 4AM, tomorrow morning, the full team will be on deck: the IMOCA Fives Group - Lantana Environnement will be the first to leave the Bassin Paul Vatine to reach to starting blocks... expected at 9:30AM.
D-Day - 1: it's gonna be rough... it's gonna be good! :-)
Follow the start of the race
As soon as 9:15AM live on social networks
From 9:10AM to 10AM on French TV France 3 Grand Ouest
Live stream on L'Equipe and Eurosport digital platforms
A respectuous and circular sporting event
The Fives IMOCA is an "upcycled" boat. Thanks to Louis, it lives a 2nd life!
Louis and his team gave a new life to a very damaged IMOCA because of a fire. This refurbishment undertaking was a real technical challenge... that succeeded in only 10 months!
Louis and his team continue to apply this upcycling principle and optimization research with a constant effort on sobriety throughout this Vendée Globe program.
Louis is also very keen on respecting everyone's work and giving a chance.
The Fives Group, a major partner in this Vendée Globe program, has been seduced by such commitment and values, as it shares the same values and responsibilities.
Fives, your partner for a more virtuous industry
For over 200 years, the Group has designed the breakthrough solutions and technologies that make industry what it is. From the first railways to the Eiffel Tower, through the spatial conquest, Fives always spearheaded the industry of the future. Pioneering decarbonization, the Group is an unconditional partner of the industry's energy transition. Through digitization, the promotion of a circular economy and the development of new processes and new energy sources, Fives puts its technological leadership to its customers' service.
www.fivesgroup.com