A full inventory review
In only 3 weeks, Louis and his team repaired the jibboom, installed 1,000W solar panels on the roof, modified the motor's water intakes to charge batteries, optimized and made more reliable the rudder blades and drifts, installed a 2nd water maker and a 2nd satellite antenna (mandatory for the Vendée Globe), reviewed the lazy-jacks and the sails, ...
"Apart from the jibboom, all of that was planned. It was a big undertaking, however there also was a lot of people around the boat. Up to 7 per day: it worked really well!", detailed Louis Duc.
We had a wonderful adventure
3 years learning and discovering
Since he put himself into this Vendée Globle challenge back in September 2020, the Norman skipper discovered and learned to manage this "small company": "We encountered pitfalls, but also extraordinary moments! We broke, we repaired, we optimized... We discovered the life of an IMOCA team! Today, we have the boat we dreamed of. In a year, it will be the final push towards the Vendée Globe. We had a wonderful adventure... it's marvelous..."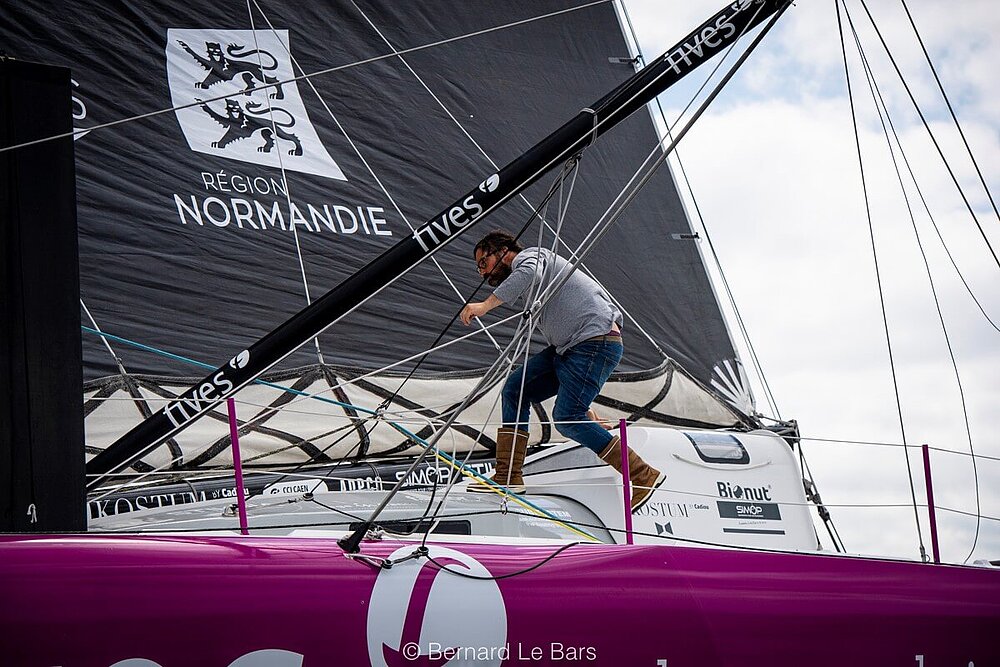 Every step they took, every problem they faced allows today Louis to face what's next for his Vendée Globe program in a more relaxed way.
"The first source of serenity comes from our partners' trust and enthusiasm. May them be our main sponsors, our technical partners or - of course - coming from the "Votre entreprise autour du monde" club. Lastly, we now have a full team with "mercenaries" ready for the very specific jobs and several skillsets for the core team. We begin to bring people together around us..."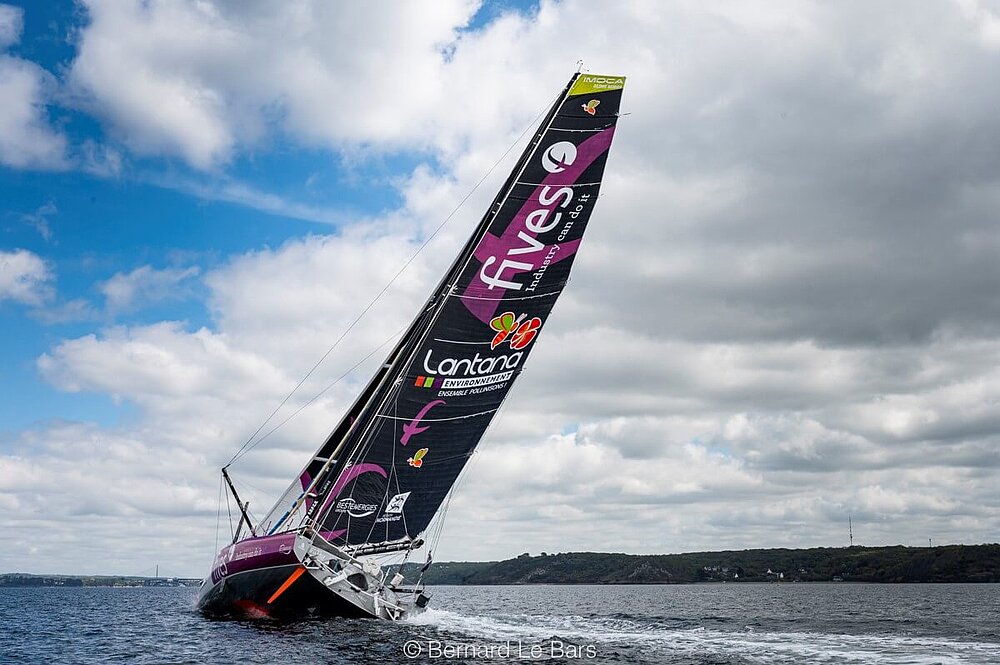 Head on to Lorient, the Défi Azimut and... the bees!
The next step is of course the Défi Azimut – Lorient Agglomération: a pleasurable and unmissable event!
Louis Duc: "I like this race! Runs allow to work on the starting phase, to adjust the boat. There's a good 48h race, true prologue of the Transat Jacques Vabre. Also, the runs like racing around Groix ensure good moment with our partners, especially in Lorient with all of the Fives Syleps* team on deck!"
Just before the Défi Azimut, Louis will make use of his trip to Lorient to inaugurate, on September 15th at 11.30AM local time, a Lantana Environnement** beehive at Fives Syleps*, a subsidiary of the Fives Group, located in Ploemeur, France.
* Fives Syleps in Lorient and Ploemeur, and Fives Xcella in Larmor Plage are to Fives Group subsidiaries. The headquarters are based in Paris and their origins can be traced back to Lille. This French international group has been named "Fives" in honor of Lille's neighborhood Fives, where it was created.
** As a reminder, Lantana Environnement is a group of landscapers participating in protecting the bees. They create a bond between beekeepers and companies or private individual that would like to host beehives.
Welcome on board :-)
Have you ever boarded an IMOCA? Do you know what a boat looks like without all of its comfort parts? Have you ever wondered how solitary sailors were managing for racing beasts? How they sleep, eat, work on their strategy, produce energy, ... Louis welcomes you on board and explains everything with pedagogy and humor as always!
Episode #1: the Cockpit
This series of minivideos can be found on Louis' social networks
Production Image in France
Fives Group – Lantana Environnement Team's Program
Sept. 6th Launch in Caen
sept. 11th Conveying to Lorient
sept. 15th 11.30AM (Paris Time) Inauguration of a Lantana Environnement beehive at Fives Syleps, Ploemeur, France
Sept. 19th – 24th Défi Azimut - Lorient Agglomération
End of Sept. Conveying to Cherbourg
Start of Oct. Undertaking finishing touches, Caen
Oct. 19th Arriving at Le Havre
Oct. 29th Start of the Transat Jacques Vabre Normandie Le Havre
Nov. 26th Start of Retour à la Base
A respectuous and circular sporting event
The Fives IMOCA is an "upcycled" boat. Thanks to Louis, it lives a 2nd life!
Louis and his team gave a new life to a very damaged IMOCA because of a fire. This refurbishment undertaking was a real technical challenge... that succeeded in only 10 months!
Louis and his team continue to apply this upcycling principle and optimization research with a constant effort on sobriety throughout this Vendée Globe program.
Louis is also very keen on respecting everyone's work and giving a chance.
The Fives Group, a major partner in this Vendée Globe program, has been seduced by such commitment and values, as it shares the same values and responsibilities.
Fives, your partner for a more virtuous industry
For over 200 years, the Group has designed the breakthrough solutions and technologies that make industry what it is. From the first railways to the Eiffel Tower, through the spatial conquest, Fives always spearheaded the industry of the future. Pioneering decarbonization, the Group is an unconditional partner of the industry's energy transition. Through digitization, the promotion of a circular economy and the development of new processes and new energy sources, Fives puts its technological leadership to its customers' service.
www.fivesgroup.com