Louis Duc and Rémi Aubrun finished the 700 miles on this Rolex Fastnet Race at 9h38 this Tuesday 25/07/23 in the morning, in Cherbourg, after an intense race marked by three big damages that the Fives Group duo managed to fix. They therefore qualify for the Transat Jacques Vabre Normandie Le Havre. The sports assessment for these 3 days remain very positive and the Phoenix* performance potential is confirmed!
Louis Duc, skipper Fives Group – Lantana Environnement: "We thought to be at ease, to do a nice race and to focus only on performance... It wasn't the case. But on the plus side of such damages, they were chokeful on teachings. The boat also proved itself to be fast."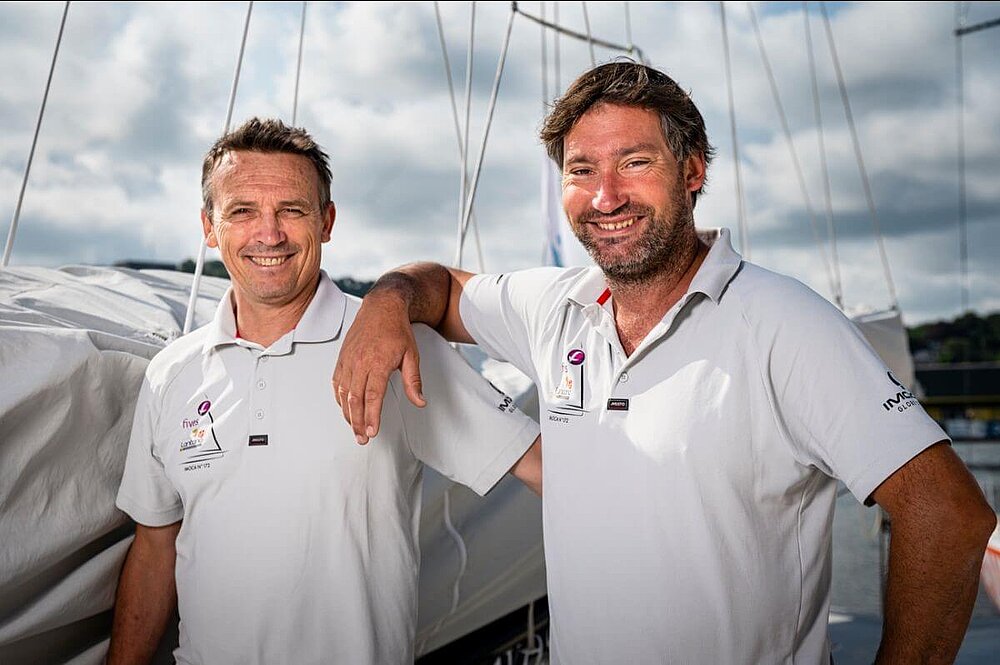 Th most important is to learn
Louis Duc: "Regarding the drift, we knew about it, the problem was identified. Even if I thought it would not happen. Now, it won't happen again.
As for the keel's jack, it forced me to dive into this complex issue that I didn't have the time to properly study. I learned and it will inevitably be useful later on. I called two people that knew well such parts: Éric Lamy and Jean-Paul Siaudeau (JPS Concept). They seeked out solutions and I made some tests for them. I know well this type of system, so we were roughly using the same lingo, but there was so much power in these jacks that you can't allow any mistake. We finally saw that the issue came from the capacitors. Again, they must be manipulated with caution... In the end, it was a big 250A fuse that gave way. From what they told me, it was unheard of.
It took time to analyze and get things back to work, but it was very interesting."

Speed boost confirmed
Louis Duc: "As for performances, it's very good. The boat speeds up nicely and goes at a fast pace smoothly compared to same-gen boats.
Past the first technical issues fixed, we tried to push it. Rémi and I were pushing the setup and the sails. That led us to make a come-back and gain back some miles on our closest competitors.
At the Fastnet, we were the fastest to go into the spi, the maneauver was exquisite. The wind was going in strong, the others couldn't keep up: it went well. We gained other miles... the boat is clearly faster than last year."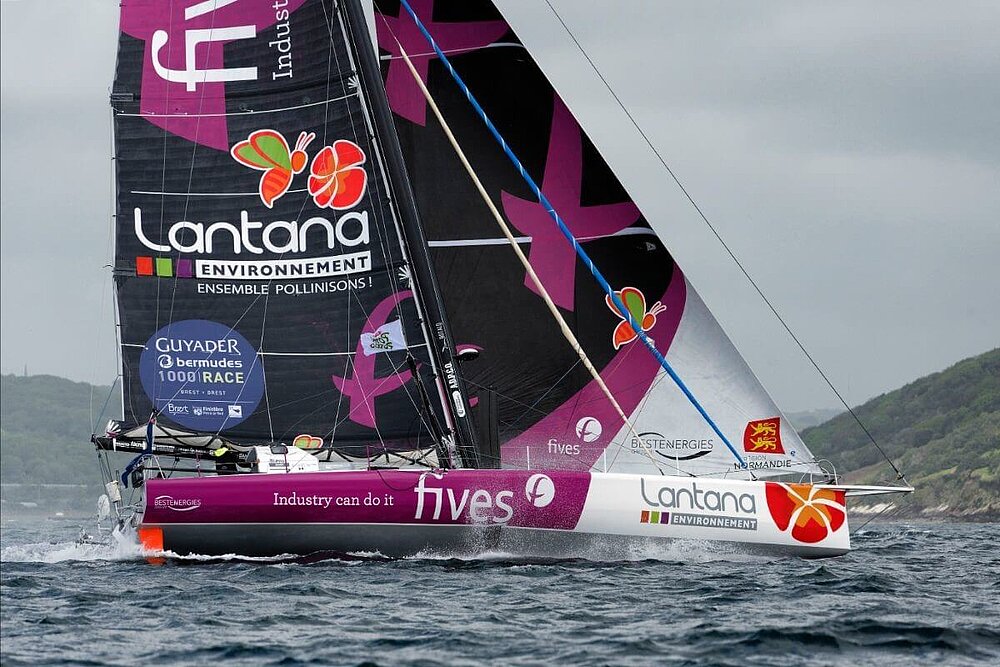 Slow finale
Louis Duc: "A few hours away from Raz Blanchard, we chose to go under Code 0 to anticipate a wind drop. During the maneuver, the sail went into the sea and it tore off the jibboom. We needed time to retrieve it as it passed under the boat. Hopefully, there was only a small tear, it will be easily fixed. Regarding the jibboom, we can also fix it.
It's slightly frustrating though, as we fought to go fast, we managed to repair while off-shore and competing, and now, we finish slow..."

A real pleasure!
Louis Duc: "Rémi is full on performance. He's efficient and enjoyable. A real pleasure to sail with him!
Although... he doesn't wake me up when I sleep: if he continues like this during the Transat Jacques Vabre, he won't sleep for 3 weeks!"

Rendezvous in September at Défi Azimut – Lorent Agglomération. Up till then, Louis and his technical team have a lot of work…
* Phoenix: This boat burned in 2019. Louis Duc retrieved it as a wreck. Then, part by part and with a team of experts, they built it back, optimized it, repaired and recycled everything they could. This way, they gave a 2nd life to the boat and made it perform better without buying brand new equipment: everything can be efficient, recycled, repaired.
The Vendée Globe Fives Group – Lantana Environnement program is guided by these central themes: optimize and innovate while keeping ecologically reasonable; use state-of-the-art technologies while limiting as much as possible their carbon footprint and their program's.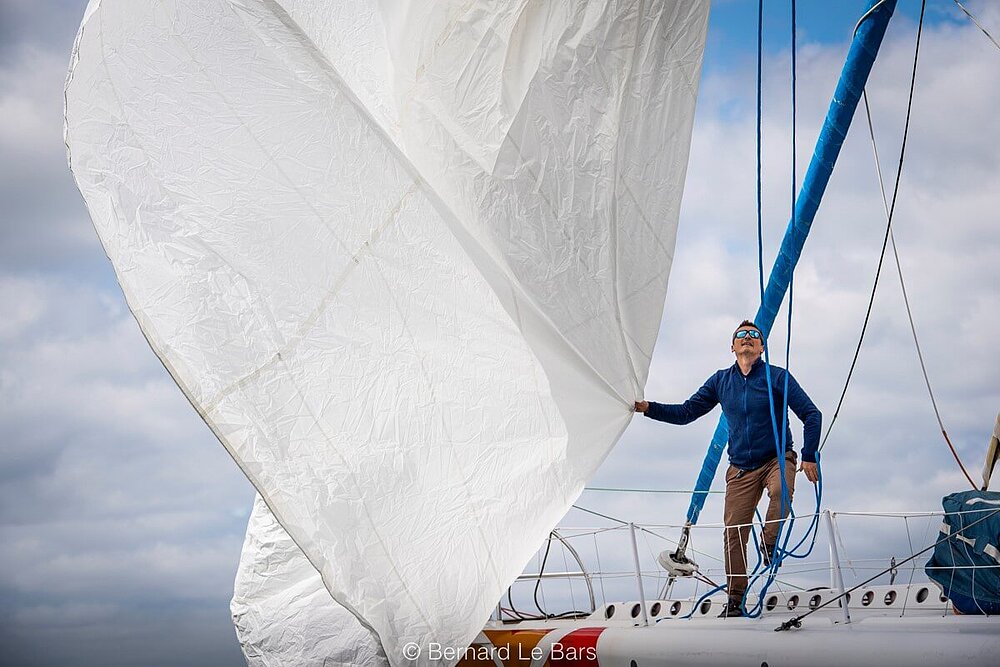 A respectuous and circular sporting event
The Fives IMOCA is an "upcycled" boat. Thanks to Louis, it lives a 2nd life!
Louis and his team gave a new life to a very damaged IMOCA because of a fire. This refurbishment undertaking was a real technical challenge... that succeeded in only 10 months!
Louis and his team continue to apply this upcycling principle and optimization research with a constant effort on sobriety throughout this Vendée Globe program.
Louis is also very keen on respecting everyone's work and giving a chance.
The Fives Group, a major partner in this Vendée Globe program, has been seduced by such commitment and values, as it shares the same values and responsibilities.
Fives, your partner for a more virtuous industry
For over 200 years, the Group has designed the breakthrough solutions and technologies that make industry what it is. From the first railways to the Eiffel Tower, through the spatial conquest, Fives always spearheaded the industry of the future. Pioneering decarbonization, the Group is an unconditional partner of the industry's energy transition. Through digitization, the promotion of a circular economy and the development of new processes and new energy sources, Fives puts its technological leadership to its customers' service.
www.fivesgroup.com