The privilege of summer races: the Drheam Cup challengers will benefit from ideal conditions, according to Louis Duc, the IMOCA Fives – Lantana Environnement's skipper!
Big sun, calm sea and a 15 to 18 knots breeze coming from East. It will carry the first few hours of the race start. The English Channel and up to Land's End should be quick and pleasing. "Forecasts are reliable, we have ideal conditions to reach the Celtic Sea!", says Louis.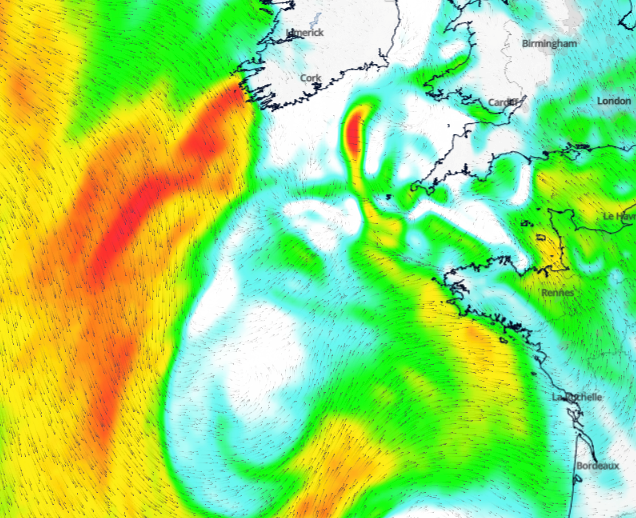 Still waters & storms to come
The Celtic Sea and Fastnet crossings will be more complicated: a windless zone, just before a depression, will slow down the race tempo. "The speed of evolution of these conditions will determine how much still waters we'll have. This is the challenge in this race. And since we're in the middle of the summer, with big heats, there will surely be storms. We'll have to keep a close eye on it"
Shortened route
In order to limit risks of storms, the racing organization reduced the initial route for Ultims, IMOCAs, Ocean Fifties and Class40s: they will go through the north of the Île de Ré, instead of the Gironde estuary. "Here, we will have North-West winds to push us. And we should avoid storm regions. We should then benefit from North-West winds on our way up to Trinité-sur-mer. These very contrasted conditions will be perfect to test different sail setups!"
See you this Thursday at Trinité-sur-mer!
The Fives – Lantana Environnement skipper believes he will finish this race in the night of Wednesday to Thursday, or Thursday in the early morning (July 21st).
Fives, your partner for a more virtuous industry
For over 200 years, the Group has designed the breakthrough solutions and technologies that make industry what it is. From the first railways to the Eiffel Tower, through the spatial conquest, Fives always spearheaded the industry of the future. Pioneering decarbonization, the Group is an unconditional partner of the industry's energy transition. Through digitization, the promotion of a circular economy and the development of new processes and new energy sources, Fives puts its technological leadership to its customers' service.
www.fivesgroup.com