Racing 24h and already battled with winds, twice! Louis and Rémi are in the middle of the 2nd depression system while leaving the English Channel: 30 to 40 knots, rough sea. Conditions are bad, but manageable for our veteran sailors.

The beginning of Transat Jacques Vabre Normandie Le Havre remain tonic! After 10 days standing-by, competitors started the race with strong winds and a rough sea. They went up the English Channel, with other drift boats on their sides (fascinating but demanding) before having their first night with 30 to 40 knots winds. So, all in all, better not be tired!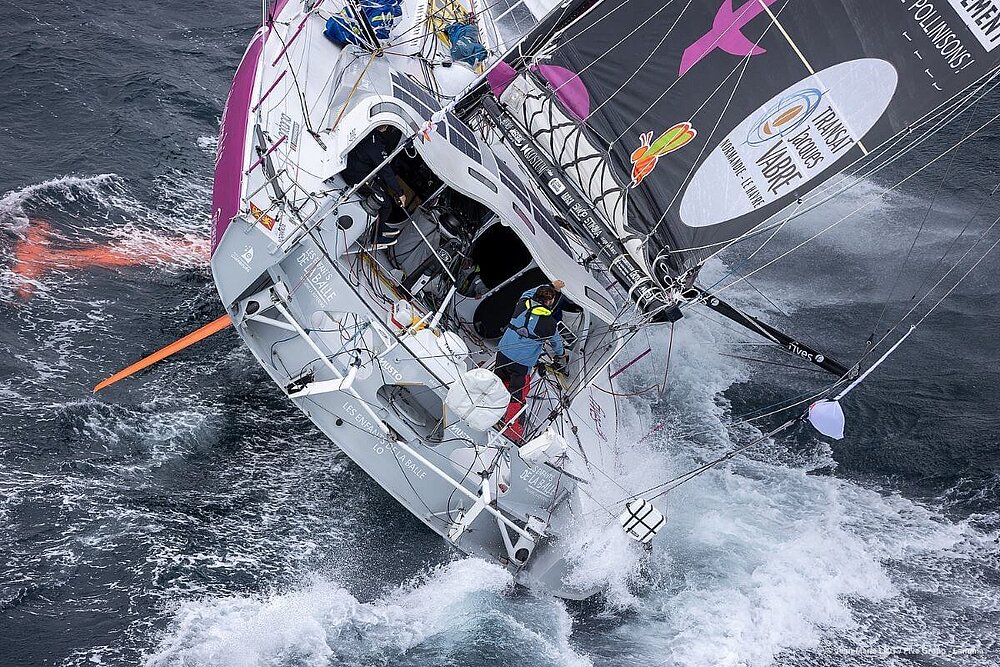 The Fives Group duo is this morning 30th, 8th on the drift boat ladder. Competitors sail as a group and rankings evolve fast.

It's going to be interesting!
Within 2 to 3 hours, wind will calm down and blow West. Louis, Rémi and their racing comrades will then dive into the Azores and begin to study carefully the best strategies to avoid the very big depression on the North and two anticyclonic bubbles (no winds) that begin to form South, right on their track…

"The goal is to always sail between a depression and an anticyclon", explained Louis before the race. "But here, the situation is complex, with many small, fast evolving systems: we will monitor and adjust our track. It's going to be interesting!"

To be continued!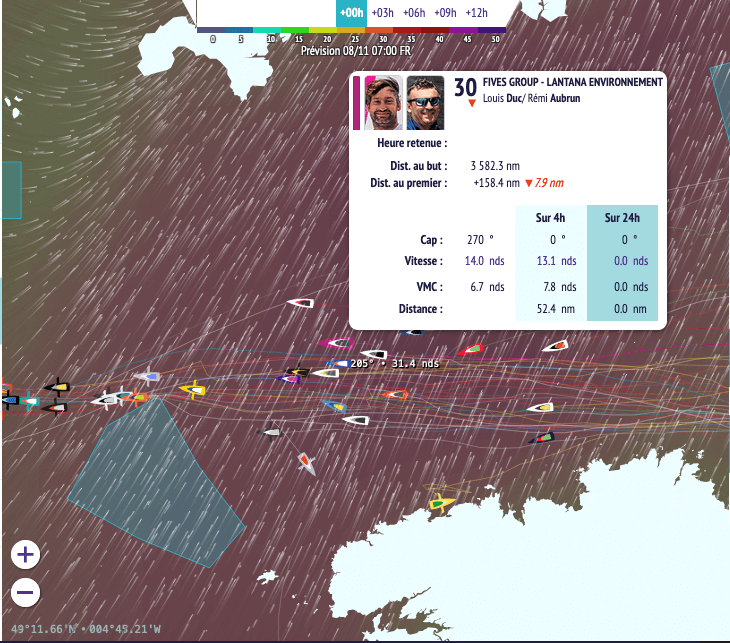 A respectuous and circular sporting event
The Fives IMOCA is an "upcycled" boat. Thanks to Louis, it lives a 2nd life!
Louis and his team gave a new life to a very damaged IMOCA because of a fire. This refurbishment undertaking was a real technical challenge... that succeeded in only 10 months!
Louis and his team continue to apply this upcycling principle and optimization research with a constant effort on sobriety throughout this Vendée Globe program.
Louis is also very keen on respecting everyone's work and giving a chance.
The Fives Group, a major partner in this Vendée Globe program, has been seduced by such commitment and values, as it shares the same values and responsibilities.
Fives, your partner for a more virtuous industry
For over 200 years, the Group has designed the breakthrough solutions and technologies that make industry what it is. From the first railways to the Eiffel Tower, through the spatial conquest, Fives always spearheaded the industry of the future. Pioneering decarbonization, the Group is an unconditional partner of the industry's energy transition. Through digitization, the promotion of a circular economy and the development of new processes and new energy sources, Fives puts its technological leadership to its customers' service.
www.fivesgroup.com