The Fives IMOCA is only 850 miles (1,600 km) away from the goal. Louis thinks he can reach Tête à l'Anglais, at the North of L'Île aux Papillons, by Wednesday midday (Paris time). From there on, the Norman will continue to maneuver to the best of his abilities his boat, even if he can't be in "performance mode" anymore for the past few days. He also makes the most of this somewhat peaceful time to learn a lesson or two from this Route du Rhum – Destination Guadeloupe.

We remember Louis had damages on his rigging the past week. He fixed the issue through a rapid pit-stop under the Terceira Island, Azores. He could secure his rigging, which was essential, but couldn't alone, offshore, put as much tension in his shrouds and bottome shrouds as usual: "The boat doesn't accelerate as it used to", he explains.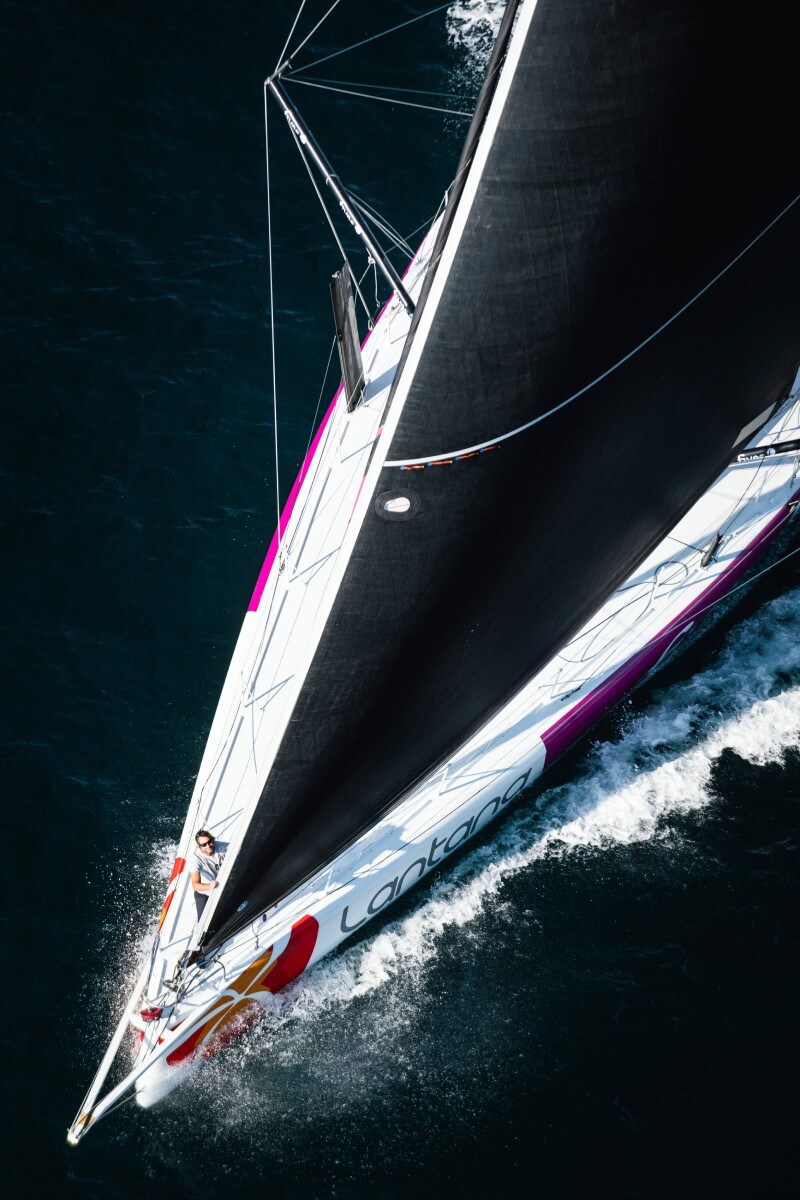 Snowball effect under the sun
Saturday, he had to deal with a series of technical mishaps due to two frontsail halyards breaking in a row. You can listen (in French) Louis talk about it below.
Route du Rhum : Avaries en série à bord de Fives - Lantana Environnement, mais ça glisse toujours !
A good lesson learned!
The 3 big depressions of the 1st racing week also took a part in this series of damages. It all begins with the audacity and commitment of our skipper at the start of the Route du Rhum. And, while this time it didn't pay off, it makes for an even better lesson to learn!
The lesson to remember...
"Everything has been put under strain suddenly and with violence, so we quickly see what's going wrong. I'm happy to have chosen to sail on hard seas even if it didn't work on a strategic level. I'm fairly happy about my path, but sailing with a boat at 60% of its maximum doesn't allow for the full extent of tactical choices. It's a very good test: we never sail under heavy conditions for several days during training.
The lesson to remember is that you leave nothing to chance: the halyards and the lazy-bag were in good conditions before starting the race, but they weren't brand new... it won't happen again. It's a good lesson for the Vendée Globe", says our Norman in a positive way!
Lots of wind avord Fives' boat!
Fives, your partner for a more virtuous industry
For over 200 years, the Group has designed the breakthrough solutions and technologies that make industry what it is. From the first railways to the Eiffel Tower, through the spatial conquest, Fives always spearheaded the industry of the future. Pioneering decarbonization, the Group is an unconditional partner of the industry's energy transition. Through digitization, the promotion of a circular economy and the development of new processes and new energy sources, Fives puts its technological leadership to its customers' service.
www.fivesgroup.com