Order intake grew significantly in 2021,
after a year especially hard hit by the pandemic in 2020
Despite uncertainty in the first few months of the year, marked by fears about a "third wave" of COVID-19 caused by the outbreak of the Delta variant, economic recovery was confirmed from spring onwards. Industrial investment was driven by general optimism about the end of the pandemic, comprehensive recovery plans announced by different governments (following support plans put in place at the peak of the pandemic) and positive financial performance by major clients.
This context resulted in a significant increase in orders, which grew across all Activities throughout the year. While many significant projects under review by clients are not yet in place, due to the review time frames inherent in the nature and complexity of the planned projects, small and medium orders (services, equipment and small systems with a unit value under €10 million) achieved record levels for the Group in 2021. Order intake for the year was €1.889 billion, up compared to 2020 (+18% at constant exchange rates) and also up compared to 2019.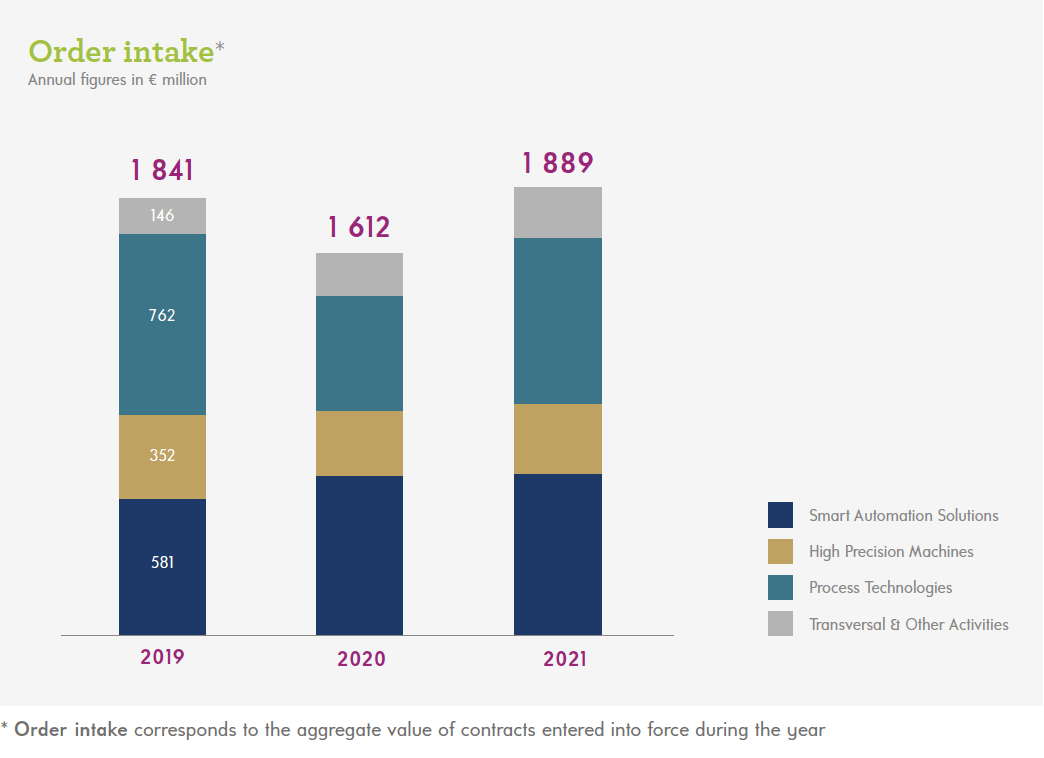 ---
Fives' offer addresses the challenge of accelerating underlying market trends in industry
In the Smart Automation Solutions activity, the extensive transformation of end consumers' shopping habits, which can be seen in the growth of e-commerce, offers excellent opportunities to Group technologies for high speed flow management (automated sorting centers and storage platforms, last-mile logistics) and automated solutions (order fulfillment, palletization). In 2021, Fives continued to grow in the American market, while strengthening its position among the main international e-commerce players.
In the Process Technologies activity, industrial groups' awareness of climate issues and the need to reduce their carbon footprint, deepened by increasingly strict prospects in terms of regulations and finance, highlight the Group's portfolio of technologies whose environmental and energy performance are central to the innovation strategy. In 2021, Fives experienced a sharp upturn, led by growing demand across all its business lines (cement, steel, aluminium, glass, energy).
In the High Precision Machines activity, the major shortage of key components and dependency factors appearing in the wake of the war in Ukraine are pushing national sovereignty issues to the forefront in industrial segments considered strategic. While discussions around electric vehicles have not yet led to the return of investments by automotive manufacturers comparable to the pre-pandemic years, in 2021 Fives strengthened its position with major aerospace and defense players.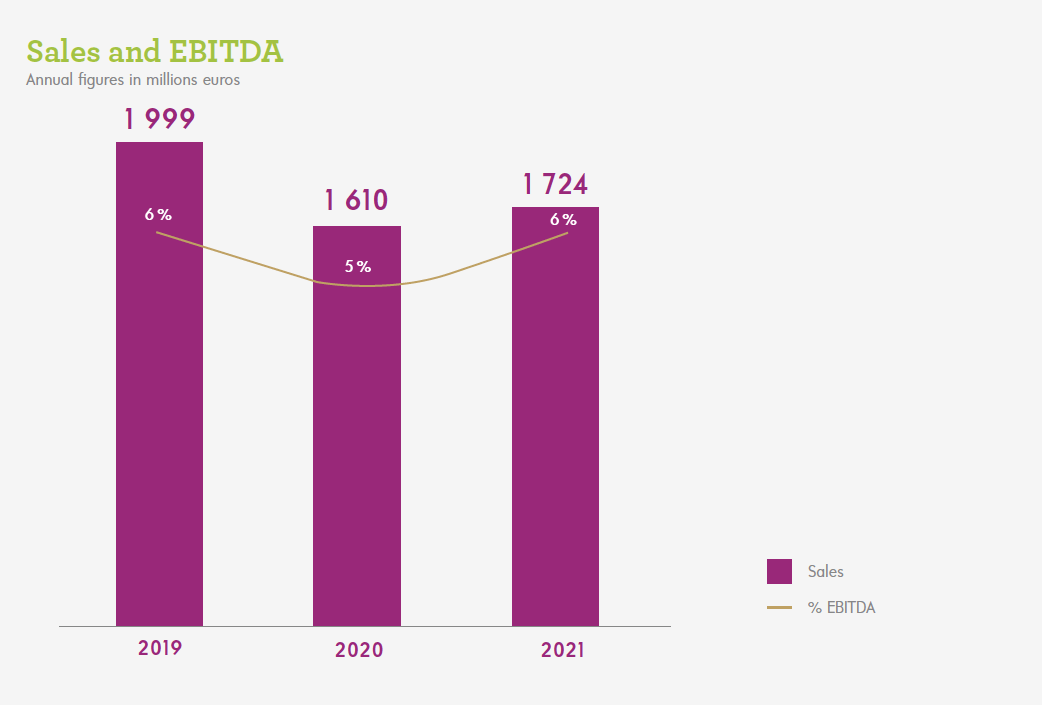 ---
The Group gets back to its pre-pandemic level of operational profitability, despite project performance conditions that remain challenging
The sales for 2021 were €1.724 billion, which is an increase of 8% at constant exchange rates versus 2020. This increase is linked to the Smart Automation Solutions activity and transversal activities to a lesser extent. However sales from the High Precision Machines and Process Technologies activities fell, due to lower opening order book numbers.
Compared with 2019, sales are still down by 15% at constant exchange rates, due to lower opening order book numbers, on the one hand, and slower performance rates for existing projects as a result of longer supply times (for electronic components in particular) on the other hand.
The 2021 gross profit was 19.3%, up by 0.7 points compared with 2020. Despite the increased costs of raw materials and logistics and operational disruption linked to travel restrictions in many countries, project performance allowed the Group to achieve a gross margin in line with pre-Covid levels (19.3% in 2019).
Overheads are under control: at constant exchange rates and excluding the impact of the support measures implemented by governments for the pandemic, they grew by 3% compared with 2020 (for a sales figure up by 8%), mainly in the Smart Automation Solutions activity. Compared with 2019, they are down by 8%, in particular owing to structural savings achieved in the High Precision Machines and Process Technologies activities.
In this context, the Group's EBITDA totaled €104 million in 2021, an increase of 30%, at constant exchange rates, over 2020. This is 6% of sales, one point above 2020, and at the same profit level as 2019 (despite much lower sales).
Finally, the Group's net profit was back to a positive figure in 2021. It reached €17 million in 2021, after the losses in 2019 and above all in 2020, at the height of the pandemic.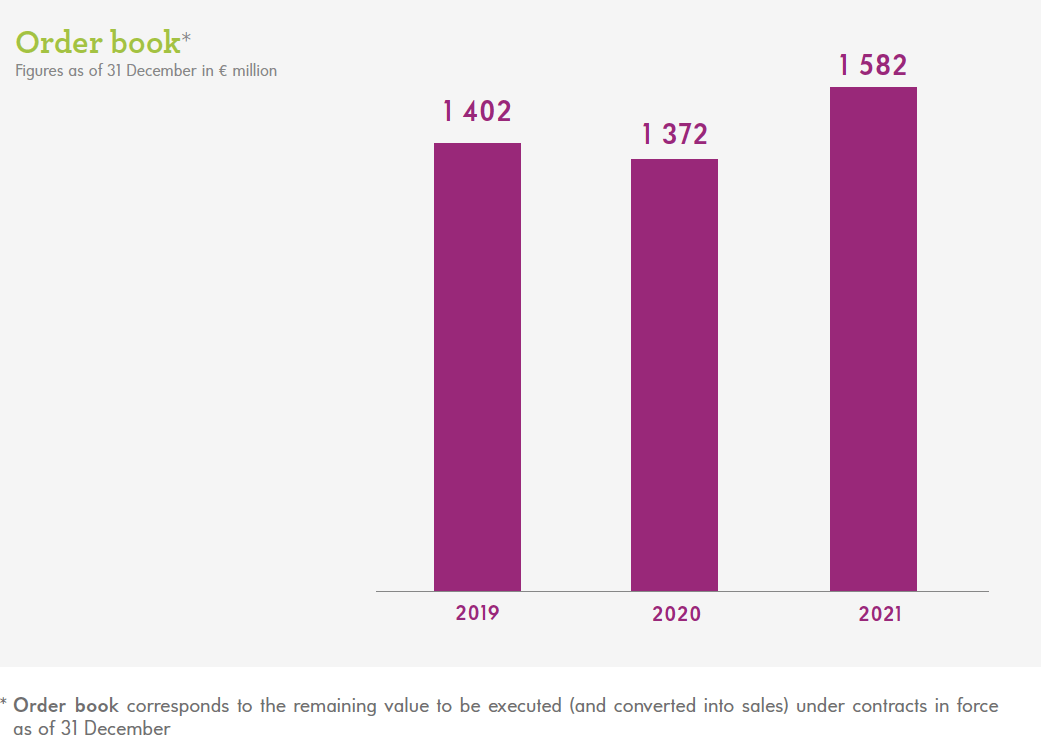 ---
With a record order book at end 2021 and favorable market trends in all Activities, Fives is more confident in its opportunities for growth than ever before
We ended 2021 with an order book standing at €1.582 billion, a huge increase compared with 2020 and 2019, and a new all-time record for the Group.
Despite project performance rates that continue to be affected by the increasing shortage of raw materials and components due to the war in Ukraine and the resurgence of the COVID-19 pandemic in China, this order book gives the Group excellent visibility over our activity, workload and performance levels for the 2022 financial year.
Driven by the underlying market trends linked to e-commerce, decarbonization, and regional sovereignty, which were amply anticipated by the Group in its strategic choices, its organization and its innovation policy, the growth prospects of the Group's Activities are, at last, looking particularly favorable in the coming years.