Race in stand-by
Louis has been forced to put himself on stand-by because of technical issues that impede him to navigate tack starboard (wind coming from the right compared to the front of the boat).
"The goal is to shelter at Terceira (island on the North-East of Azores Islands) to repair stuff. I shouldn't need to go back to land, but I need a calm sea", explained the skipper.
Learning composite
This is also what happens when sailing offshore: manage, whatever happens. A weather condition that evolves faster than anticipated, a health issue or, of course, a technical one: your typical day for a sailor. You need to assess the cause and resources to solve the situation, as fast as possible.
Louis is one of these skippers that has gone through several repairing workshops before sailing. It was his key to sailing offshore. He knows his IMOCA as best as one could, since he repaired and optimized everything. Therefore, he already has a rather good idea of what to do when things break.
Let it wash over you
While waiting for better weather conditions to go South to Azores and Terceira Island, the Norman tries his best with a windy situation: 40 knots with up to 48 knots gusts.
This is the 3rd front the fleet of Route du Rhum – Destination Guadeloupe is enduring since last Wednesday race start in Saint Malo. Behind him, a carrying breeze will set midday, allowing him to sail to a safer place of North Atlantic...
Take a step back, analyze,repair and start again
Yesterday, Louis could take a path towards the Azores. After an umpteenth sleepless night & technical issues, he left behind him the rather violent winds.
Rigging issues impeded him to flee as he wanted. He therefore had, once more, to challenge himself to keep his boat in shape despite the heavy sea and 45 knots gusts. Mission accomplished.
At last, we glide
Our skipper can now breathe a bit more. He's gliding toward Terceira. He won't stop there, but will use the calmer winds around the island to repair what needs to be: reinforcing the rigging, repairing the mainsail rail and a lazy-jack. This operations are rather acrobatic around the outrigger or the mast, so they couldn't be done sooner.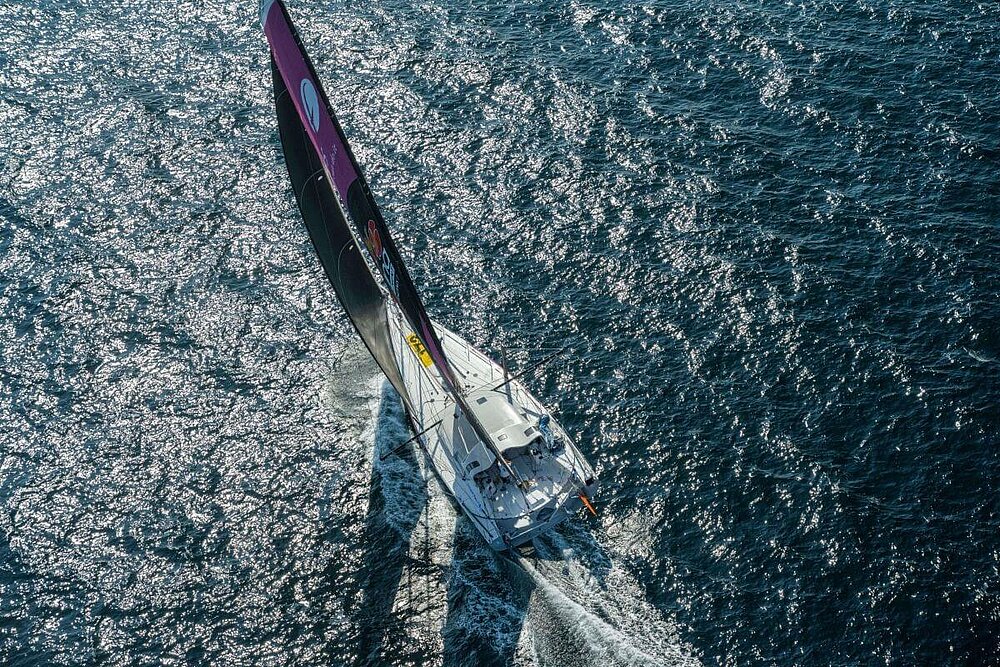 Analyze to prepare the follow-up
The race will have a new feel. "I'm not super happy about how things went", analyzed Louis, "my initial strategy should have worked if I had been at 100% of the boat capacity all the time. But it didn't happen due to technical issues. If I had been at 100%, I wouldn't have lost 10-ish hours. Thiese weather and sea conditions were not the plan, that I can tell you.
It's a good training for the Vendée Globe's Southern seas, but more than anything, it shows I need to spend time offshore next year to make sure that the boat will be ready and reliable.
It wasn't the case the past 2 years due to long technical workshops on the IMOCA."

Now that he analyzed the situation, Louis has to focus on a closer future: what he needs to repair as fast as possible, and how to get back into the race.

Route du Rhum – Destination Guadeloupe's fleet had its share of troubles too on these first 6 days: just racing is already a victory.
The main goal this season still remains to earn qualifying miles for the solo world tour with no port of call that will start in two years... the adventure merely begins!
Fives, your partner for a more virtuous industry
For over 200 years, the Group has designed the breakthrough solutions and technologies that make industry what it is. From the first railways to the Eiffel Tower, through the spatial conquest, Fives always spearheaded the industry of the future. Pioneering decarbonization, the Group is an unconditional partner of the industry's energy transition. Through digitization, the promotion of a circular economy and the development of new processes and new energy sources, Fives puts its technological leadership to its customers' service.
www.fivesgroup.com