A stunning start!
The Fives – Lantana Environnement skipper did quite the show yesterday before the 48h Défi Azimut race with a wonderful start ahead of the fleet, in front of all the media! Well placed, Louis managed to set himself out compared to the other 28 boats: congratulations!

The Défi Azimut fleet has travelled 220 miles (407 km) tonight separating Lorient from the first race mark, near Spain. Very little strategy was required during this sail down under the spinnaker straight toward the goal, but the night was probably a sleepless one for many solo sailors. The winds were unstable and fast: "It bursts under spinnaker! The maneuver was rather long, but easy...", writes Louis during the evening.
It's a speed race that started at the very start. This morning, the IMOCAs we sailing close to the Asturian coasts before starting their sail up towards Brittanyu.

The wind, strong tonight (up to 20/30 knots), eased during the morning (10/12 knots). Always north, the breeze will force sailors to go against it: "twice the road, twice the pain", as sailors say. But this zigzagging also sometimes imply interesting tactics…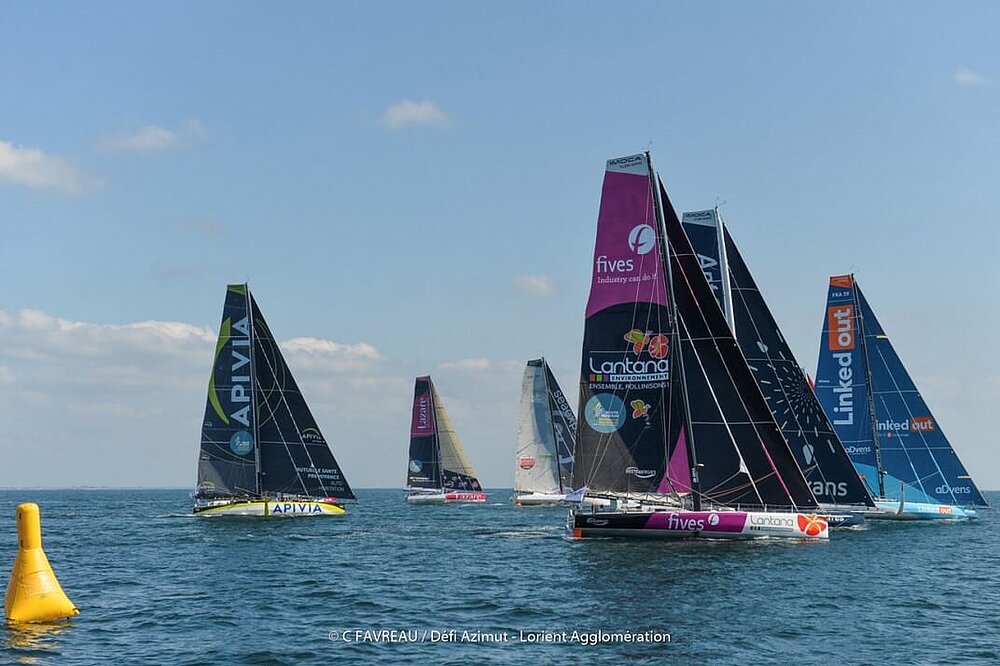 Final push!
Charlie Dalin (Apivia) finished this 505 miles 48 hours race of Défi Azimut slightly before 7AM on Saturday the 17th of September 2022. Louis was only 50-ish miles away from the finish line, ranking 15th fighting in the middle of a drift and foiler boats group.

This triangle in the heart of the Bay of Biscay was a pure speed race. Our skipper got the best out of his Fives – Lantana Environnement, very satisfied of the latest evolutions his boat got: "Full throttle it goes quite well, the work we did shows. With new sails, it'll be as fast as a fighter jet!" , observed Louis yesterday while he was neck and neck with Isabelle Joschke's foiler (MACSF).

He was the first to veer, yesterday in the early evening, to head north. A strategy that allowed him to get back to the pack. Then, it was straight up toward Lorient, all night long. Louis probably tried new settings during that time: that's now or never before the Route du Rhum – Destination Guadeloupe…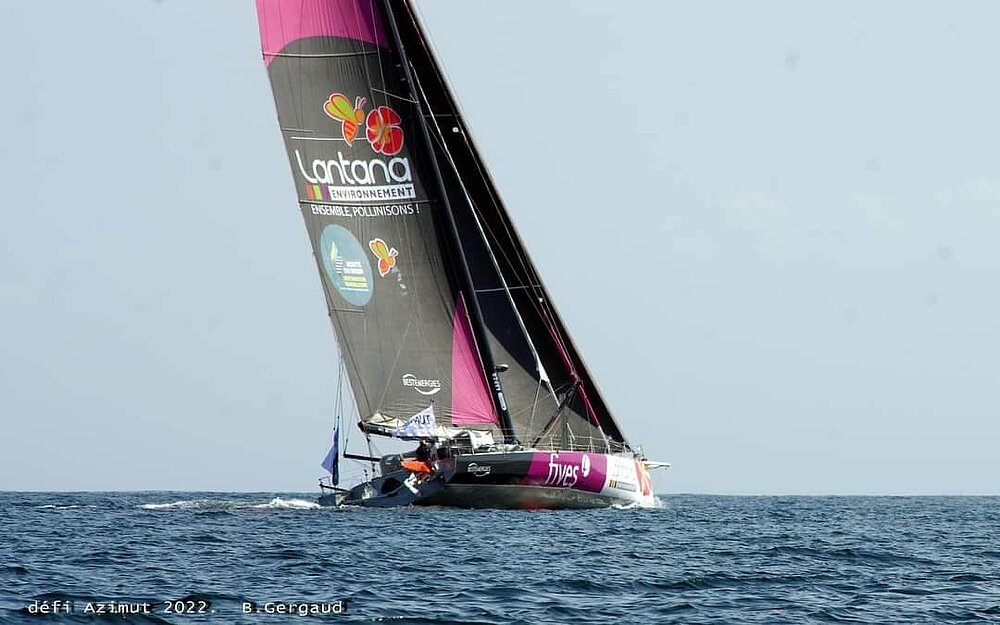 A very positive assessment!
"It was the first time I sailed since the boat's new systems and it's very satisfying. I am really happy about the work that was done. There was regatta all the time, I was going flat out non-stop during the race on on the settings. I had a lot of fun on this beautiful track!"
Well, you might have guessed it. Louis was smiling when reaching the pontoon of Lorient - La Base in 15th place on the Défi Azimut 48 hours race.

A key sail was missing on the Fives - Lantana Environnement skipper though to perform going towards Spain. But Louis did with what he had and managed to send his spinnaker in beefy conditions to compensate for this missing sail.
Then, a nice regatta allowed him, throughout sailing up to Brittany, to evaluate himself to other drift & foiler boats: no complain here.
The start: "I was so proud of myself!"
Louis Duc: "It was interesting! I managed to get a nice position on the starting line, it reminded me of my Laser years! I felt it good, I managed to launch the boat, full speed on settings and angles. These weather conditions (10 to 12 wind knots) were perfect for drift boats to play your cards just right. I was so proud of myself!"

Sailing down: "A bit wild under the spinnaker, but that did it for me"
Louis Duc: "Sailing down towards Azimut 1, I lacked a Code 0 (multipurpose gennaker, big front sail) that I didn't have for now. That was THE sail I needed!
So I had to improvise between my J1 and the spinnaker, with some sail switching to manage. These maneuvers take easily an hour on this boats, which means a few miles lost.
There were 25 to 30 knots gusts so I had to delay, keeping under J1 while sailing high a bit more that I'd hoped for...
And since this was bothering me, I finally send the spinnaker even if there was still quite a lot of wind. It was a bit wild, but that did it for me!
It went fast under the spinnaker, without pulling too much, to avoid breaking. I did rather well in the end. Those who chose not to put the spinnaker (and not having a Code 0) had it really bad…"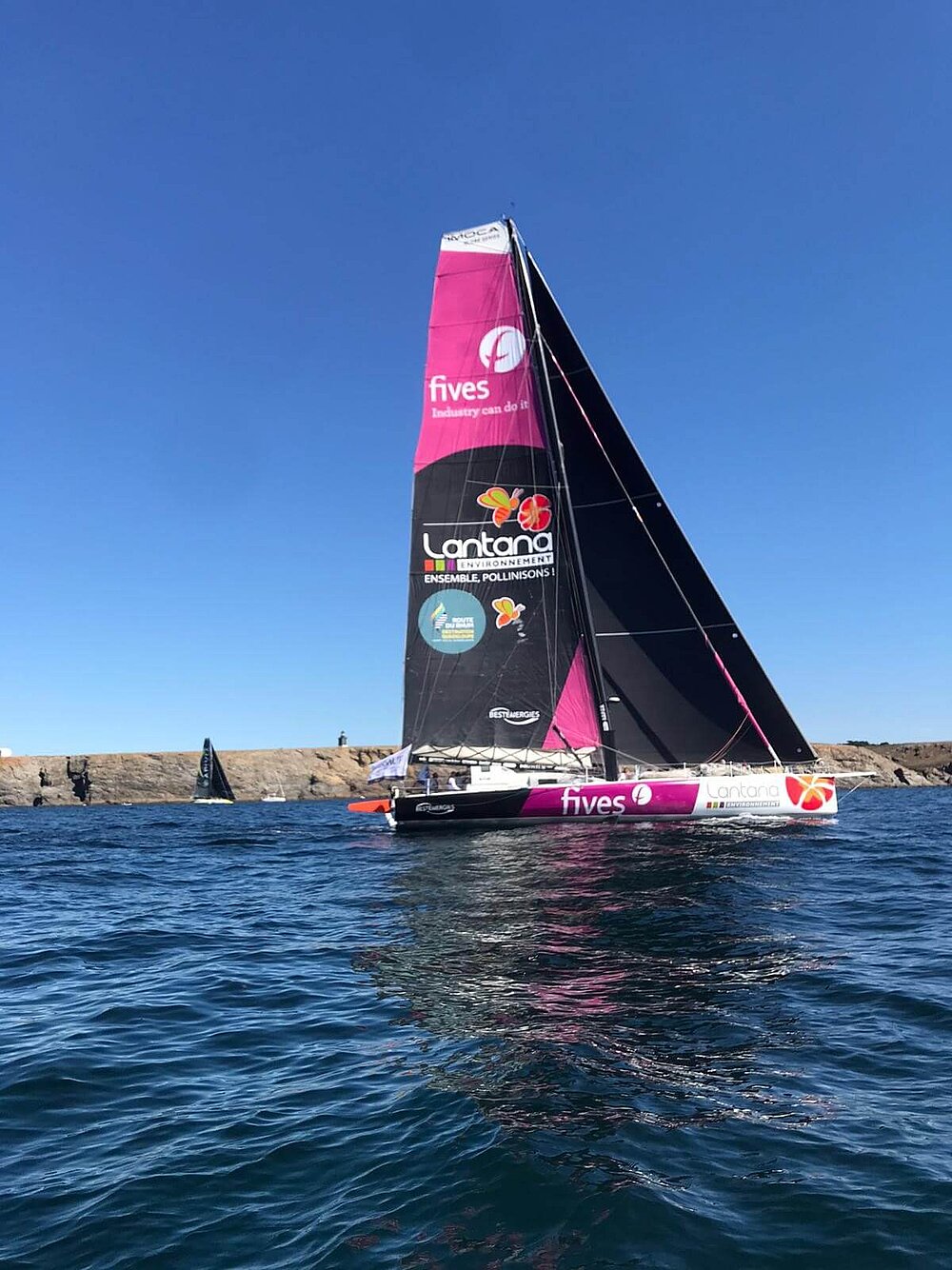 And now, we gaze at the Route du Rhum...
This Défi Azimut has now finished this Sunday the 18th of September 2022 on a fantastic sunny day with some wind and tactics nearing Groix. "The goal today was to share a beatiful day with our guests aboard, to do a regatta with our neighbours, without taking risks: we are only a few weeks away from the Route du Rhum, we don't want to break anything!
I believe all these goals have been met today, it was quite fun!", shares Louis.
The Défi Azimut is a truely outstanding event!
Louis Duc: "The Défi Azimut is a truely outstanding event that allows meeting with all of the teams, to share some festive time ashore and of course to gauge each other at sea. We race altogether but in the end, we don't see each other very often. We can talk about many topics. This 3 days event also allows us to board partners and guests, have visibility on future races, take pictures and show our boats and showcase our partners' values.
As for the sporting side, the climax was of course the 48h racen full of teachings. The gobal assessment is very positive!"

And now, you ask? "We gaze at the Route du Rhum..."
Fives, your partner for a more virtuous industry
For over 200 years, the Group has designed the breakthrough solutions and technologies that make industry what it is. From the first railways to the Eiffel Tower, through the spatial conquest, Fives always spearheaded the industry of the future. Pioneering decarbonization, the Group is an unconditional partner of the industry's energy transition. Through digitization, the promotion of a circular economy and the development of new processes and new energy sources, Fives puts its technological leadership to its customers' service.
www.fivesgroup.com