I love Route du Rhum
"I love Route du Rhum, even if it's also my bête noire*. I want to reach the other side without any regret, after a wonderful fight with the competitors and a boat in good shape. As for the rest, we'll see!" There, all is said. With humiity and desire, the Fives skipper unveils his ambitions – and some more – for this Route du Rhum – Destination Guadeloupe 2022.
The mythical solo transatlantic is both a milestone on his way to the Vendée Globe and a major sports goal for the Norman skipper.
A double milestone to achieve
It will be his first solo IMOCA transatlantic. 2 years worth of hard work to shape this, from a boat that has been fully rebuilt, recycled... and largely optimized.
On a personal level, as his two first Route du Rhum weren't the best* (it also happened to great sailors like Éric Tabarly, for instance), this 2022 edition feels like a good time to take revenge, with a lot of humility for Louis.
I love difficulty
Even if he doesn't have the fastest IMOCA, Louis has other cards to play: his strategic boldness, his knowledge of the boat and ease offshore. Major assets on solo races.
Louis Duc: "I love difficulty, just like the ones we can have on a Route du Rhum race start. I know my boat very well for I dismantled it and rebuilt entirely with the help of the technician team and architect's office.
In the end, we sailed quite a lot this season, I handle my boat well. However, we are on a high level race, all of our competitors are impressive!"
We must avoid trying to get smart with the Atlantic sea
Louis Duc: "The Atlantic, it's not the same thing. I did between 15 to 20 transatlantics. I've had a lot of luck to sail. I've had sinking stories… we must avoid trying to get smart with the Atlantic sea."
_______________________________________
* The Route du Rhum, Louis' bête noire… for now
In 2014, Louis starts in Class40, with an old generation boat and low budget. He does a race start leading the way… but his main sail deteriorates and forces him to forfeit 48h after the start.
In 2018, sailing his Lift40, a new generation Class40: the first ever scow 40 feet that created the new standard. Louis is amongst the favorites.
After 36h of racing, he plays under severe weather conditions, as he likes them. He's in the top 3 and this strategy was a win.
However an essential part, while new, breaks and pushes Louis to stop and repair. he will sail again with 48h of delay compared to the frontrunners. He fought until the end, but was here for the sport. His 18th place was somewhat bitter. But his sistership, n°2 on Lift40 and led to victory by Yoann Richomme, has been a proxy consolation.
The Route du Rhum, a revelation, a detonation
Louis Duc has always been close to the sea. His first steps were still to do, yet he was already boarding the family sailboat. On land, a boat outhouse was used as a car seat! Around 11 years old, he discovers the Route du Rhum: it was a cue, a detonator… a bomb! Offshore racing blasted its way into Louis' life.
"I discovered this race with my father, when I was 11. It was back in the days of sailors such as Loïck Peyron, Laurent Bourgnon… the start was magnificent!
It certainly was a cue for me to visit the pontoons in Saint Malo, 1994. From this day on, I became fascinated with this race. I couldn't live without it! I was reading all the magazines, collecting all the pictures in them. At school, my thoughts were about the Route du Rhum!...", remembers Louis Duc.
At school, my thoughts were about the Route du Rhum...
"It was the first time my father brought me on a racing village. I think it's also for this reason I have fond feelings about it.
I boarded on Halvard Mabire's beautiful boat (Cherbourg Technologies), a 60 feet. It was the best boat of the fleet back then. He lost it 3 days after starting the race…"
"My first sea memory? Hard to say, as I boarded for the first time around 1 year old.
I did a lot of cruises in the Channel Islands with my parents. I lived in Carteret with fishermen kids that became fishermen themselves… I grew up in this environment that was all about the sea."
"We're going to have fun sailing!"
For Louis Duc, Fives' skipper, a competitor is a playmate before anything else. While sailing, he'll try his best to surpass everyone, but he appreciates the human and sporting values of each and every one of his competitors.
"Amongst the drift boats, there are some that are somewhat recent (put to sail between 2006 and 2008) and optimized. In any case, all of these are beautiful projects with performance goals and a lot of engagement. There is a beautiful regata between these old generation boats!", explains the Norman skipper.
Performance and engagement among the competitors
The game feels thrilling to follow among the drift boats, as it was already the case on the Vendée Arctique and Défi Azimut, where they showed they coulld fight their way to top ten or better!
Who are the main competitors?
Louis Duc: "There is Tanguy Le Turquay (Lazare), a very good competitor, he comes from the Mini and Figaro races. He likes to fight, we're going to have fun sailing!
Benjamin Ferré (Monnoyeur – Duo for a job) handles Paul Meihat's ex-SMA, winner of the last Route du Rhum: it's the newest and most efficient drift boat. He's fast and experienced.
There is the young and sweet Guirec Soudée (Freelance.com). He's known by the public for doing an heroic round-hte-world solo trip with a hen on board. He's not a competitor per se, but he is still competing with us!
Éric Bellion (Comme un seul homme) with Jean Le Cam's old boat, my boat's sistership.
Sébastien Marsset (Mon courtier énergie) is a very good sailor, and many more…
Sometimes we are surprised to find foilers around us, so when we can keep ahead of them, we're happy!"
Imoca engaged on Route du Rhum – Destination Guadeloupe 2022
Drift boats
Éric Bellion (Comme un seul homme)
Conrad Colman (Conrad Colman racing)
Antoine Cornic (Ebac Literie)
Manuel Cousin (Groupe Setin)
Louis Duc (Fives – Lantana Environnement)
Benjamin Ferré (Benjamin envoie de pépin)
François Guiffant (Kattan)
Oliver Heer (Gitana 80)
Tanguy Le Turquais (Lazare)
Sébastien Marsset (Cap Agir ensemble)
Nicolas Rouger (Demain C'est loin)
Guirec Soudée (Freelance.com)
Foilers
Fabrice Amédéo ( Nexans Art et Fenêtres)
Romain Attanasio (Fortinet Best Western)
Yannick Bestaven (Maître Coq)
Jérémie Beyou (Charal)
Arnaud Boissières (La Mie Câline)
Louis Burton (Bureau Vallée)
Charlin Dalin (Apivia)
Samantha Davies (Initiatives Coeur)
Benjamin Dutreux (Guyot Environnement)
Kevin Escoffier (PRB)
Xu Jingkun (China Dream)
Isabelle Joschke (MACSF)
James Harayda (Gentoo)
Pip Hare (Medallia)
Boris Herrmann (Malizia Sea Explorer)
Paul Meilhat (Biotherm)
Justine Mettraux (Team Work)
Giancarlo Pedote (Prysmian group)
Alan Roura (Hublot)
Thomas Ruyant (LinkedOut)
Damien Seguin (Groupe Apicil)
Rodolphe Sepho (Rêve de large. Région Guadeloupe)
Kojiro Shiraishi (DMG Mori)
Maxime Sorel (V and B – Monbana – Mayenne)
Nicolas Troussel (Corum L'Epargne)
Humility and lucidity
"It's a Route du Rhum. We know what we're up against when we come around here. It's part of the game. You have to know when to shelter when you believe it won't go well; lower the sail to let the storm go or take risks and go full speed. You have to be able to do all this", announces Louis Duc (Fives – Lantana Environnement).
The start will be tonic, but manageable
The weather maps are clear: depressions are coming one after the other since the beginning of the week in North Atlantic and with them, strong winds and a powerful sea. "The start will be tonic, but manageable. Monday during the evening, it'll be tougher", warns Hervé Laurent, meteorologist following Louis Duc up until the start of this Route du Rhum. "We expect 35 to 40 knots with 6 to 10m of deep. During 3 – 4h, the race will most likely be sidelined. Then, the wind will calm down, sticking to the front with a wavy sea. Boats and sailors will be be shaken, announces meteorologist.
Louis Duc (Fives – Lantana Environnement): "This will probably be the most complicated part of the race. It's not the first time we sail iunder these conditions. Things can break. I don't mind the weather, but we have to take it with humility."
Then, what? This first technical obstacle passed, strategy will be key. With weak and unstable carrying winds and a changing weather scenario, that will be quite the change!
The big depressions we talked about push back the trade winds to the South, around Cape Verde. Then, between the two, there's no wind. "We'll have to weave", explains Hervé Laurent.
Louis Duc (Fives – Lantana Environnement): "From Cape Finisterre, the game will start again! it will be interesting and open. On the Route du Rhum, it's always the same: a depression on the right, an anticyclone on the left: you just have to find the good ones!"
Weather trump cards?
The complex weather conditions at the race start on this Route du Rhum – Destination Guadeloupe, followed by a very strategic part won't help with speed and gliding.
"Foilers will have issue foiling", estimates Hervé Laurent. This might mean drift boats may get their way?
It remains to be seen… Louis Duc's priority is to reach the finish line.
* Trade winds: subtropical winds generated by the Earth rotation, blowing North-East within the North hemisphere. When established, they allow the sailors to go through the Atlantic from East to West under ideal conditions: good wind, heat and sun. Merely wishful dreams for solo sailors during this edition of the Route du Rhum it seems…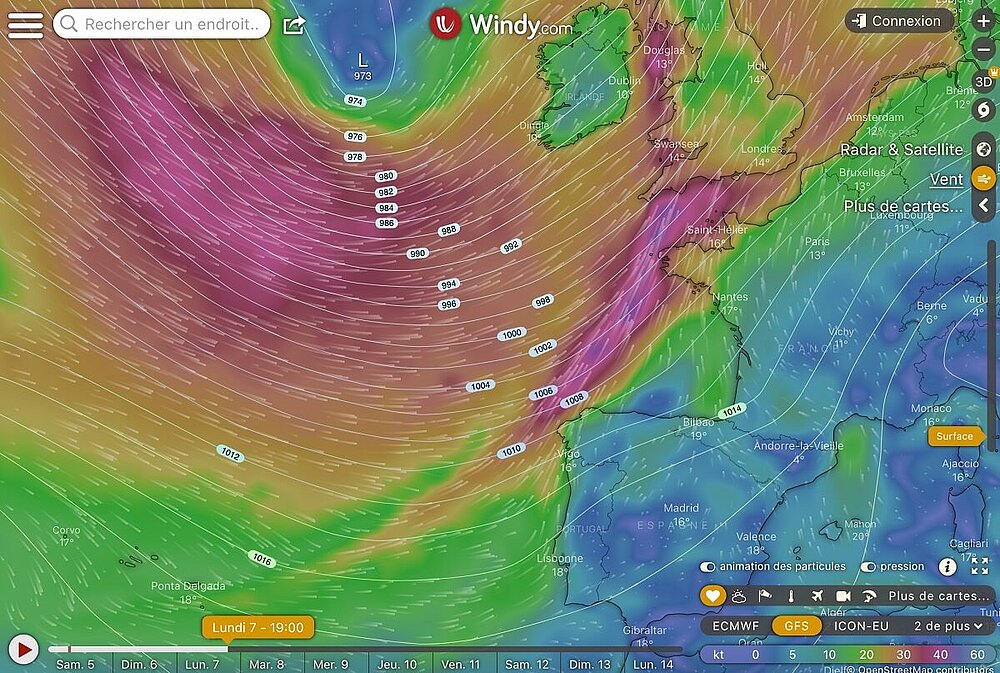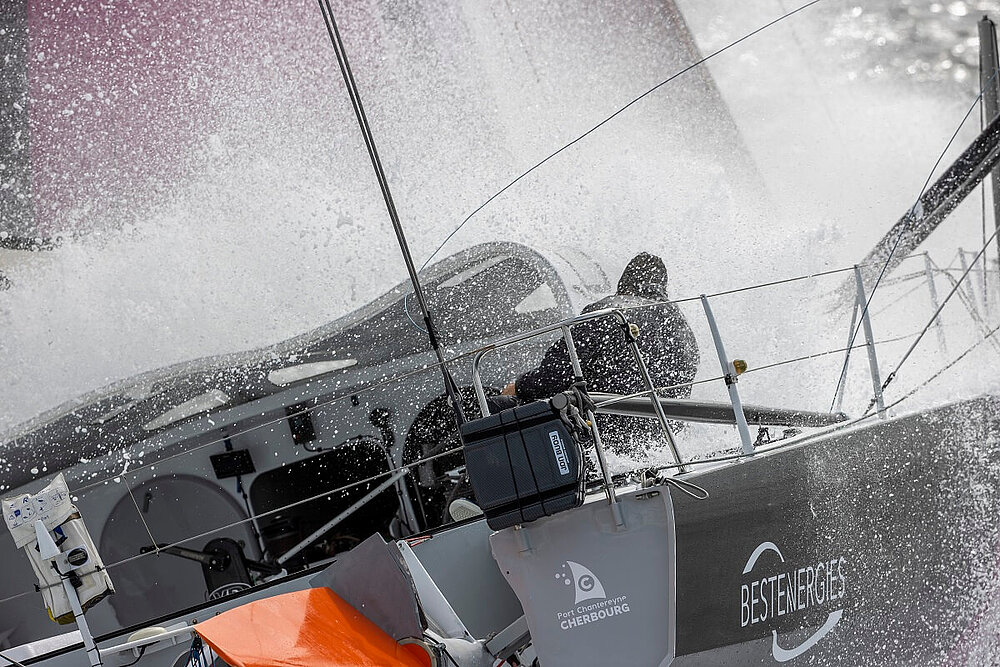 "There's work to do!"
Tomorrow, the race is back. As for the weather conditions, there are common points between tomorrow and if it had launched on November 6th: a first challenge, followed by a depression (this time tropical), favorable wind tunnels to find… However, trade winds are back! The first couple racing hours are expected to be tense.
We will have to be extra-cautious
15 knots of wind, calm sea: good conditions are expected tomorrow in the Channel, but that doesn't mean it will be a walk in the park. Many traps await the solo racers…
Louis Duc,Fives skipper: "There's work to do! What annoys me the most are the first three hours. After the start, it's usually good to get into the rythm, to set things up. Here the wind is just right, everyone will plank, between the IMOCA, the Class Rhum, the Class40, that will be a lot of people within a small area.
There's also the wind farm to avoid between Fréhel and Bréhat. We'll cross a fishing zone with wind swings to manage, along the coasts and at night!
We'll have to sleep well this evening to be ready for tomorrow!"
____________________________
Analysis of Hervé Laurent,meteorologist
Two days to begin
"The global situation is more manageable comparent to a race start last Sunday. But the racers will still have a depression to cross on Friday morning, with around 30 to 40 wind knots and 4 meters of deep."
This means about 2 days facing the wind and the sea. "It won't be fun, nor fast…", sums up Louis Duc.
A difficult road to the Azores
Once this initial weather conditions managed, our skipper will go towards the Azores to join up with the trade winds. But this "South Speedway" is tricky: "Between the 1st depression and the trade winds, there is a transitional and strategical zone around the Azores. We'll have to be smart to avoid falling into calm sea, or worse, opposite winds", warns Hervé Laurent.
Then, the last phase of this Route du Rhum should be a full blown speed race to Guadeloupe.
Fives, your partner for a more virtuous industry
For over 200 years, the Group has designed the breakthrough solutions and technologies that make industry what it is. From the first railways to the Eiffel Tower, through the spatial conquest, Fives always spearheaded the industry of the future. Pioneering decarbonization, the Group is an unconditional partner of the industry's energy transition. Through digitization, the promotion of a circular economy and the development of new processes and new energy sources, Fives puts its technological leadership to its customers' service.
www.fivesgroup.com